Posted by
SendMeYourNews
on February 17, 2017 at 10:01am in
CURRENT EVENTS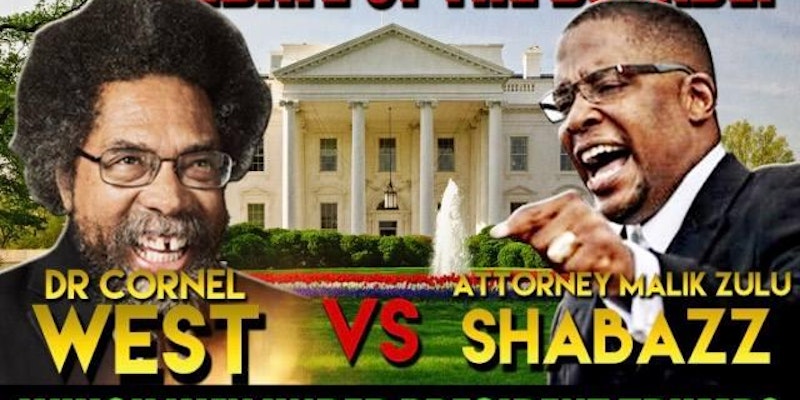 On
Tuesday, February 21, 2017
at the National Press Club in
Washington, DC
, a critical national town hall meeting and historic debate will take place by the illustrious scholar and
Howard University
Professor Dr.
Cornel West
and Black Lawyers for Justice leader
Malik Z. Shabazz, Esq.
Prior to the debate/town hall meeting,
Cornel West
and
Malik Shabazz
will conduct a national news conference to directly address the current statements and actions of the President of
the United States
and their impact on the African American community.
SCHEDULE OF EVENTS: 3–4pm news conference featuring Dr.

Cornel West

, scholar activist and

Malik Z. Shabazz

, national president of Black Lawyers for Justice and other Black leaders.

7pm

DEBATE OF THE DECADE : WHICH WAY UNDER PRESIDENT TRUMP? and town hall meeting.
LOCATION: The National Press Club – 529 14

th

Street NW –

Washington

, DC
The
7pm
DEBATE OF THE DECADE town hall meeting will address the growing fears, anxieties, and worries of Black America surrounding the policies, words, and actions of the new POTUS Donald J. Trump. Blacks in America are still in a semi-state of shock following the departure of the strongly supported President
Barack H. Obama
whose approval ratings amongst African American elected voters reached over 95 percent. The election victory of
Donald J. Trump
has produced a seismic shift in the confidence of the Black or African American population's level of confidence in their support that they feel they have from
the United States
government.
Education, social security, public benefits, housing, law enforcement, justice issues, gentrification, mass incarceration, immigration issues, and many other serious issues are worrying Blacks in America; and these issues will be thoroughly debated and discussed with the audience, Dr. West and Attorney Shabazz. A plan of action for the masses will be announced and a new coalition will be formed that breaks the traditional boundaries of the Civil Rights Movement and the Black Power Movement.
WASHINGTON
,
Feb. 16, 2017
/PRNewswire-USNewswire/ --
Get On It; TheBlackList.net