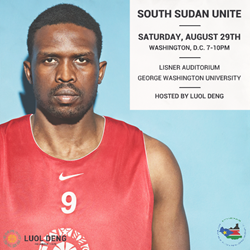 South Sudanese Basketball Player to Rally Fellow Countrymen and Women to Pave the Road Towards Peace - Together
On the fourth anniversary of South Sudan's independence, the Luol Deng Foundation is announcing South Sudan Unite, an event in Washington, D.C. to unite the South Sudanese diaspora in support of peace and reconciliation. The event will include live music from five South Sudanese artists, a high-end fashion show, and an inaugural workshop for its Peace Ambassadors initiative. South Sudan Unite will take place at George Washington University's Lisner Auditorium on August 29, 2015.
In the eyes of the world, the conflict in South Sudan is an international issue that the government and rebels involved should resolve. However, for the people of South Sudan, this is a crisis that affects every man, woman and child deeply – whether at home or in the diaspora. For Luol Deng, peace is attainable if the people unite and join hands. Together, unity is possible.
"In the spirit of peace and unity, I'll be hosting South Sudan Unite, an evening of celebrating the arts and culture. This is very important to me, because the time is now to focus on our oneness and identity as a people, rather than our differences" stated Luol. "As a people, if we can have the courage to represent the change we want to see, it means we also have the power to steer our nation back on the right track. We cannot allow what started as political conflict between a few people to take more lives and lead to more senseless suffering, robbing us of the country we dreamt of when we voted for and gained independence on July 9th, 2011."
When South Sudan gained independence, the people celebrated as one, dancing in the streets all night and embracing one another without hesitation. Today those same people are divided. Optimism has been overshadowed by contempt. Community has been undermined by distrust. These divisions are not only inside South Sudan, but also throughout the diaspora communities. It is time to unite in order to save our promised future.
"To the youth of South Sudan; the future of our families and our communities is in your hands" Luol insists. "We need your help. Let us once again find ourselves, to enhance our commonalities and fight for a better future. We can start that journey through South Sudan Unite. It will be an enjoyable night of live music, fashion, and coming together to remember the diverse beauty that makes up our young country."
About the Luol Deng Foundation
The Luol Deng Foundation is a non-profit organization that uses basketball as tool to give hope to those in Africa, USA and the UK. Our work in the three different domains maps out to the life journey of founder Luol Deng, with each region having developed him in a different but significant way on his path to becoming an NBA star. Learn more at LuolDeng.org.
Washington, D.C. (PRWEB) July 13, 2015
ALSO ON TheBlackList: