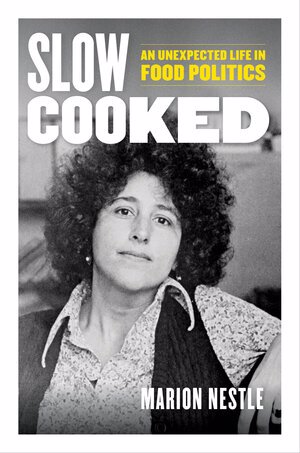 SLOW COOKED: An Evening with Marion Nestle and Laura Shapiro
In person at The Greene Space with virtual ticketing option
In celebration of her new memoir, Slow Cooked: An Unexpected Life in Food Politics, join nutrition and food studies pioneer Dr. Marion Nestle in conversation with journalist and author Laura Shapiro, as she reflects on her late-in-life career as a world-renowned food politics expert, public health advocate, and a founder of the field of food studies after facing decades of low expectations.

In her engrossing memoir, Marion Nestle reflects on how she achieved unexpected success as a leading advocate for healthier and more sustainable diets. Slow Cooked recounts how she built an unparalleled career at a time when few women worked in the sciences, and how she came to recognize and reveal the enormous influence of the food industry on our dietary choices.

Copies of Slow Cooked: An Unexpected Life in Food Politics are available for purchase with tickets and at the event from our partners Kitchen Arts & Letters.
Virtual ticketing option is available.
With her latest cookbook, James Beard Award-Winning cookbook author Naomi Duguid provides a deep dive into the miracle of salt and its essential role in preserving, fermenting, and transforming foods.

Joined in conversation by food writer and beloved home cook, Bettina Makalintal, Duguid share age-old techniques for using salt in foods around the world, as well as providing cultural and historical context.

Tickets include a drink and a tasting of Miso Cookies with Dark Chocolate Chips.

Join food writer Alicia Kennedy in conversation with Jorge Gaviria, founder of Masienda and author of the new book MASA: Techniques, Recipes, and Reflections on a Timeless Staple, for a virtual discussion about masa — the dough made of stone-ground nixtamalized corn that is the foundation of Mesoamerican cuisine.

Tickets include the option to purchase a copy of MASA, Heirloom Corn Masa Harina, and/or a Masienda Tortilla Starter Kit if ordered by October 7th.