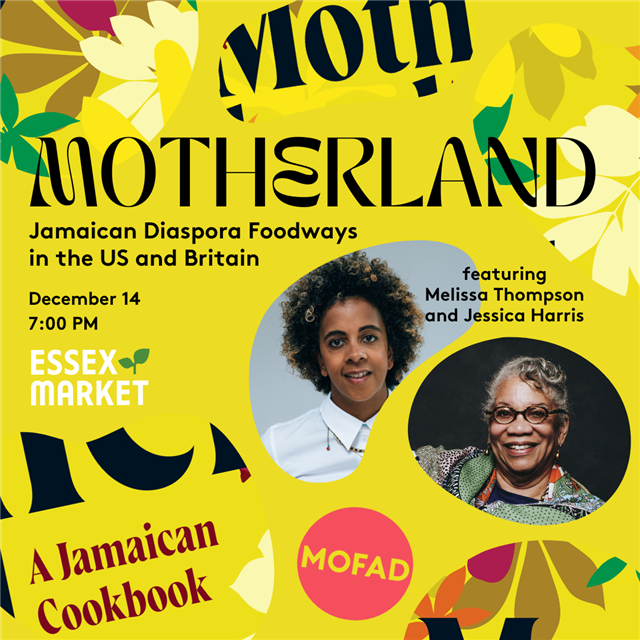 MOTHERLAND: Jamaican Diaspora Foodways in the US and Britain
In-person at Essex Market Teaching Kitchen
Join MOFAD at Essex Market for an evening with acclaimed food writer and chef Melissa Thompson and legendary culinary historian, Dr. Jessica Harris, as they take us on a journey to Jamaica with a conversation celebrating Thompson's new cookbook, Motherland.
Covering more than 500 years of history and influences, Motherland features in-depth research into the evolution of Jamaica's food. It charts the contribution of indigenous Jamaicans, the Taino. It follows the impact of colonization, and how the periods under Spanish and British rule left an indelible mark on the nation's gastronomy, without shying away from their brutality.
Dr. Harris and Thompson, who is based in London, will discuss the ways in which British -Jamaican and African foodways differ from US-Jamaican/African foodways and consider how the lived experience for Black British folks is different from that of African-Americans. According to Thompson, "there is a movement building in the UK that is almost taking its lead from the US, where Black people in food are building connections and community more now than ever before." It is that momentum that inspired her to write Motherland and explore the roots of Jamaican food.
Tickets include a cocktail made with Ten to One Caribbean Rum.
Copies of MOTHERLAND by Melissa Thompson are available from our partner bookstore, Kitchen Arts & Letters for purchase online with your ticket or separately at the event.
If you order a book with your ticket, you will be able to retrieve it for signing at the event.
USING FUNGI TO RE-DESIGN THE URBAN FOOD CHAIN

In-person at Makers' Studio at Chelsea Market

Join us at Chelsea Market's Makers' Studio for an evening of mushroom education, food and music with multidisciplinary citizen scientist and founder of MycoSymbiotics, William Padilla-Brown, and renowned filmmaker and ethnobotanist, Anthony Basil Rodriguez.

Fungi and their mushrooms are the best teachers in showing us how we can turn waste into abundance. From foraging to composting, let's learn how we can redefine our urban food-chain.

After the talk, William, who is also a rapper, will treat audience members to a performance of his original music while guests can enjoy a tasting of mushroom empanadas made by our friends at Eat Offbeat with MycoSymbiotics Cordy Hot Sauce.

FRUITING BODIES: Reclaiming the Asian Heritage and Culture of Mushrooms

Fruiting Bodies: An exploration of mushrooms through a decolonial lens is a three-part virtual series curated and moderated by journalist and writer Simran Sethi.


In this three-part virtual series, MOFAD pulls back the veil on mushrooms, and looks at evolving perceptions of mushrooms for food, drink, and health.

Our second event with Forij Mushrooms lead mycologist and production manager Jennifer Dou will look at the Asian history and culture of mushrooms and how contemporary use in the Global North often erases Global South connections.
This message was sent to theblacklist1.ananse@blogger.com by info@mofad.org
950 Fulton Street, PO Box 380857, Brooklyn, NY, 11238
Unsubscribe | Manage Subscription