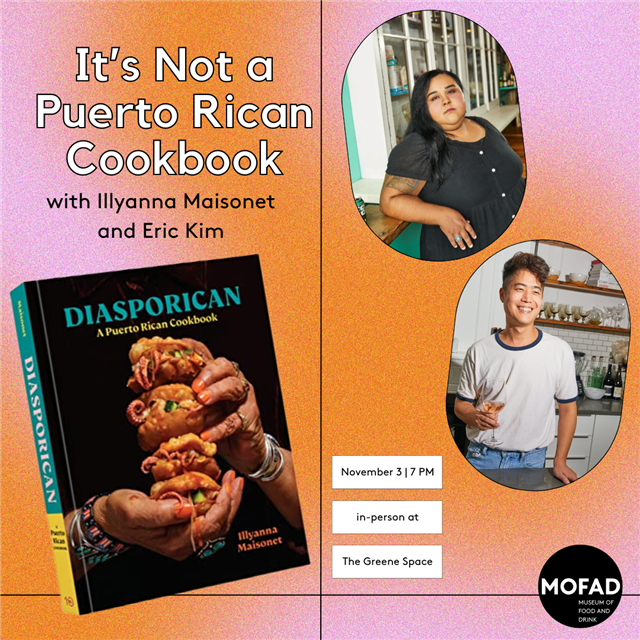 It's not a Puerto Rican Cookbook with Illyanna Maisonet and Eric Kim
In person at The Greene Space with virtual ticketing option
What can you expect to see in a cookbook from the country's first Puerto Rican food columnist? Not just Puerto Rican food. In Diasporican: A Puerto Rican Cookbook illyanna Maisonet writes, "This book is for the Diasporicans— the 5.5 million people living Stateside who continue to cook the food of our homeland. This is for the tribe of Ni De Aquí, Ni De Allá ("not from here, not from there")."
Join us at The Greene Space where Illyanna will be in conversation with New York Times staff writer Eric Kim to talk about her cultural and gastronomic experiences being born and raised in Northern California by a single mother and grandmother born in Puerto Rico. She'll also share behind-the-scenes details of what it took to bring her cookbook to light after being told there wasn't a "demand in the market" every step along the way during her six-year journey navigating the publishing world without an agent.
Your in-person ticket includes a tasting of Puerto Rican food by Que Chevere.

Copies of Diasporican: A Puerto Rican Cookbook are available for purchase with tickets and at the event.
To chef and cookbook author, Adrienne Cheatham, Sunday Best is a way to approach everyday of the week, bringing that love and inspiration from family experiences in Chicago and annual family trips to Mississippi.

Join this virtual conversation between Adrienne and James Beard Award-winning writer, editorial consultant, and producer Osayi Endolyn, whose storytelling explores the nexus of food culture, identity, music, and art.


Copies of Sunday Best by Adrienne Cheatham are available for purchase with tickets from our partners BEM | books & more.

BITTERSWEET: The Dark Side of the Chocolate Industry

In person at Chelsea Market

Join MOFAD on November 8th at the Makers' Studio in Chelsea Market for an evening with Terrence Collingsworth, founder and Executive Director of the International Rights Advocates and journalist Simran Sethi.

Sethi will speak with Collingsworth about his work on the front lines defending international human rights cases against Nestle, Cargill, Mars, Hershey, and other major chocolate companies. We'll have the chance to watch a clip from The Chocolate War, a 2022 documentary that illuminates Collingsworth's fight against the problematic aspects of the chocolate industry.

We'll finish the evening on a sweet note with Sethi leading a tasting of three premium chocolate bars from Askinosie.